Nikon D90 Review
With the Nikon D90 you (like me) are up in the professional level. With 10.2 compared to the D40´s 6.1. It has a reasonable price for the semi-professional.
I Love Nikon, since I own the professional analog Nikon F90x, the transfer to digital is very easy. Nikon has stayed with their design and structure.
I personally own the Nikon D90 with a 18-200 VR lens. I have it since it has video recording, a digital display on top of the camera and it´s much heavier (more steel) which makes it more sustainable. Besides I can use my old analog lenses in this one as well. If you want a cheaper and still great camera, check out the
Nikon D60
.




Nikon D90, 18-105mm Nikkor. Buy from Amazon

support this site

-buy the camera

only from my affiliate retailer

Nikon D90 key features

12.9 megapixel DX-format CMOS sensor
(effective pixels: 12.3 million)
3.0-inch 920,000 pixel
(VGA x 3 colors) TFT-LCD (same as D3 and D300)
Live View with
contrast-detect AF, face detection
Image sensor cleaning (sensor shake)
Illuminated focus points
Movie capture at up to 1280 x 720 (720p) 24 fps with mono sound
IS0 200-3200 range (100-6400 expanded)
4.5 frames per second continuous shooting (buffer: 7 RAW, 25 JPEG fine, 100 JPEG Normal)
Expeed image processing engine
3D tracking AF (11 point)
Short startup time, viewfinder blackout and shutter lag
Slightly improved viewfinder (96% frame coverage)
Extensive in-camera retouching including raw development and straightening
Improved user interface
New optional compact GPS unit (fits on hot shoe)
Same battery and vertical grip as D80
Vignetting control in-camera
72 thumbnail and calendar view in playback

Although it's had a bit of a design refresh with slightly sharper lines, the D90 is externally very similar to its predecessor (dimensions are identical, though it is heavier). Looking at the differences it's obviously a solid incremental upgrade rather than a total reinvention of the popular D80, with several key improvements (most importantly the sensor and screen) and a welcome smattering of must-have 2008 features (live view, dust removal). Oh yes, and of course there's that one new feature sitting at the back of the classroom with its hand waving in the air, shouting

the 'world's first' DSLR movie mode.




Nikon D90 vs D80: Key Differences

12.3 MP CMOS sensor (D80: 10.2 MP CCD)
Dust removal system
Bigger, better screen (as D3, D300)
Live View with contrast detect AF
Movie Mode
Wider ISO range (6400 compared to 3200 with boost), upgraded AF system (3D tracking, face detection)
Active D-Lighting, vignetting control and extra retouching options
Automatic chromatic aberration correction
Picture Control presets
Faster continuous shooting and larger buffer
Pictmotion slideshows
Paintings taken with the Nikon D90,
Nikkor DX VR 18-200 mm F3.5-5.6G Zoom
(edited images)


Size:
19.7 x 27.6 inches - 50 x 70 cm
Material:
Acrylic on canvas, white frame
Size: 36.2 x 28.7 inches - 92 x 73 cm
Material: Acrylic on canvas, white frame

Size:
11.8 x 16 inch - 30 x 40 cm
Material:
Acrylic, rust, plaster of Paris on cotton canvas, metallic spray
Different Statements about the Nikon D90
ERGONOMICS - The Nikon D90 is solid, tight, and well balanced with the 18-105 VR lens. It's always ready and it shoots very fast. I love all the direct access buttons. They're easy to press, and you don't have to go into the menus as much. This allows you to work pretty fast. It's heavier than the D60, but it's still very manageable to carry around. It fits my average-sized hand better too. I noticed the shutter sound is different than the
Nikon D60
(if that matters to you). It sounds more professional; more like a fast "whoosh" than a "click-click". And there are so many internal customizations, so you can set it up exactly as you want.
LENS - Biggest surprise was the 18-105 VR lens which I expected would be ho-hum, but turned out to be pretty sharp and clear. Better results than the 18-55 VR. We've really come a long way from the days (30 years ago) when you were cautioned to ALWAYS to buy a prime lens, NEVER the kit lens because of it's poor image quality. With computer-aided design and new technology, that's not true anymore.
ISO - I really like the new wide range of ISO settings, especially when coupled with the Auto-ISO setting. Mine is customized to keep the camera at ISO 200, but kick in at 1/30. This means anytime lighting decreases enough for the shutter speed to drop below 1/30, the D90 will automatically compensate by raising the ISO high enough (up to a limit you set) to help keep your shutter speed up. Noise at high ISOs isn't an issue. In fact, you have to zoom in pretty close for it to be even slightly noticeable, so now I can use Auto-ISO a whole lot more. Its an amazing feature!
IMAGE QUALITY - I shoot RAW to maximize detail and allow room to adjust exposure. Image quality is very good to excellent depending on your RAW converter (best results with View NX and Capture NX; Adobe ACR very good). When shooting JPG, images are sharp and colors are true with not too much saturation in the Standard picture mode, which is how I like it. Picture Modes can all be customized to suit your taste.
LIVE VIEW - is great for the occasional high or low shot. I didn't think I needed it, but when I had the D60, I found myself in many situations where I really could have used it. I'm very glad I have it now. Unlike a point-and-shoot, focus is slower in this mode, but I wouldn't be using Live View if I were in a rush anyway.
ACTIVE D-LIGHTING - this is now available in various strengths from Low to Extra High. Mine has been on Auto, which lets the camera decide, but I change it at times depending on my needs. Again, another great customization.
CONS
-At this price, Nikon should include a robust image editing software, or at least a decent discount on Capture NX2, which works great, but costs extra.
-Kit lens is thick in diameter (67mm). Also, the front glass of the lens seems somewhat exposed, as if it's not recessed that much (it's just enough for a lens cap). I worry that it'll get scratched easily. Good thing Nikon included the lens hood.
SUMMARY - Overall I'm extremely happy with the Nikon D90. It's designed for serious shooting, but it's still fun to use; noticeably heavier than the Nikon D60, but still not a burden. It's more solid and substantial, so it's less prone to camera shake. Nikon packed it with a ton of features and customizations, so now I finally have everything I want in a DSLR, without it being overblown and overpriced. I'm surpising myself with really spectacular shots. Most importantly, it's helping me to become a better photographer. I'm sure I won't be bored anytime soon.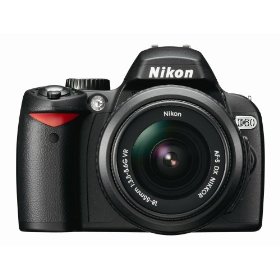 Nikon D60 Review

Beginning Photography Tips

Text Guide -
Easy